The Lowdown on Building a Deep Learning Classroom Culture
In September 2022, the NPDL Global Team released a paper titled The
Lowdown on Scaling Up Deep Learning Across Your System. Interestingly, many of the elements and actions discussed within that paper also applied seamlessly in a school context.
So, we have drilled down again, and in this paper "The Lowdown on Building a Deep Learning Classroom Culture", we examine how teachers and learners can apply similar principles to grow Deep Learning in and across classrooms. Once again, let's look at 6 ways to make Deep Learning part and parcel of everyday practice. Here is the lowdown on building a classroom culture.
The Lowdown on Scaling Up Deep Learning in YOUR System.
As a leader, you embrace Deep Learning, but it hasn't been picked up by many other leaders in your system. You know that system transformation won't really happen unless your colleagues share your enthusiasm, understanding and apply it habitually.
How do you bring Deep Learning to scale while leading with grace?
If you want to shift your schools to a system-wide focus and sincere commitment to deep learning, here is the lowdown.
Defy Pandemic Gravity:
How to Jumpstart Deep Learning in your School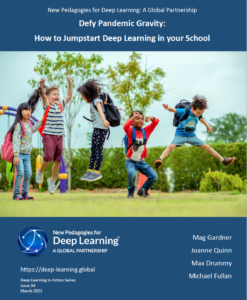 It's been a long haul. Your school staff is exhausted and demoralized. The Pandemic
has been a whopping distraction from the focus on student learning. As restrictions
ease, school teams want to return to its focus on Deep Learning. For many teams, the
question is: how best to begin again? This short paper provides seven considerations
for reviving Deep Learning in schools.
Webinar recording now available below.
---
New Paper Release!
Michael Fullan's Six Reasons to be Optimistic About Learning in 2022
"I have a hypothesis about humans. When things go blatantly bad and prolonged as such, humans especially the young are itching to do something about it. What they need are good ideas, and no nonsense collaborators. They need to experience initial success and see clearly the potential of the new social movement for change that their cause represents. The 6 reasons for being optimistic enacted together, can enable the best to become full of passionate intensity." – Michael Fullan
Activate Deep Learning and Lift from Loss
We are all different now.
By necessity, school has also changed. Quite simply, there is no going back.
We must seize this unique moment to activate the students' innate desire to connect and be curious through authentic deep learning. Not only will this re-engage them in school but it will also accelerate the learning, as motivation and engagement combine to lift them from learning loss.
NPDL Members-Only Access:
Engage Secondary Students Because the Future Depends on it.
As secondary educators we must prepare students now for the uncertainties of tomorrow. In a decade, the students you are teaching today will be charged with the massive responsibility of tackling the world's most prickly problems. Memorized math formulae and rehearsed soliloquies won't get us out of the fix we are in. We need to engage our students differently because the future depends on it.
If you want to engage secondary students and prepare them for tomorrow, here are 12 provocations to put you on a Deep Learning path.
Celebrating 10 years since the release of Michael Fullan's first "drivers" paper, CSE and Michael again collaborate to explore The right drivers for whole system success.
This paper is intended to provide a comprehensive solution to what ails the current public school system and its place in societal development – a system that is failing badly in the face of ever complex fundamental challenges to our survival, let alone our thriving as a species. What follows is a 'big' proposal. Once started the 'four drivers' feed on each other as a system in motion. Most important, the timing is right.
We are delighted to partner with Microsoft Education on the newly released position paper, Education Reimagined: The Future of Learning.
The paper presents a model to support schools and systems as they move from rapid response, through to remote-learning and then forward planning for re-opening and a new paradigm for education, one that brings the best of approaches forward.
It contains useful tools, models, conversation frameworks and guidance to contribute to the outstanding work educators are already doing.
A full list of Supporting Tools and Resources for the paper and accompanying webinars (NPDL members only) can be accessed here.